FROGGYLOUPE Full HD
The Video Magnifier that simplifies everyday life of low vision people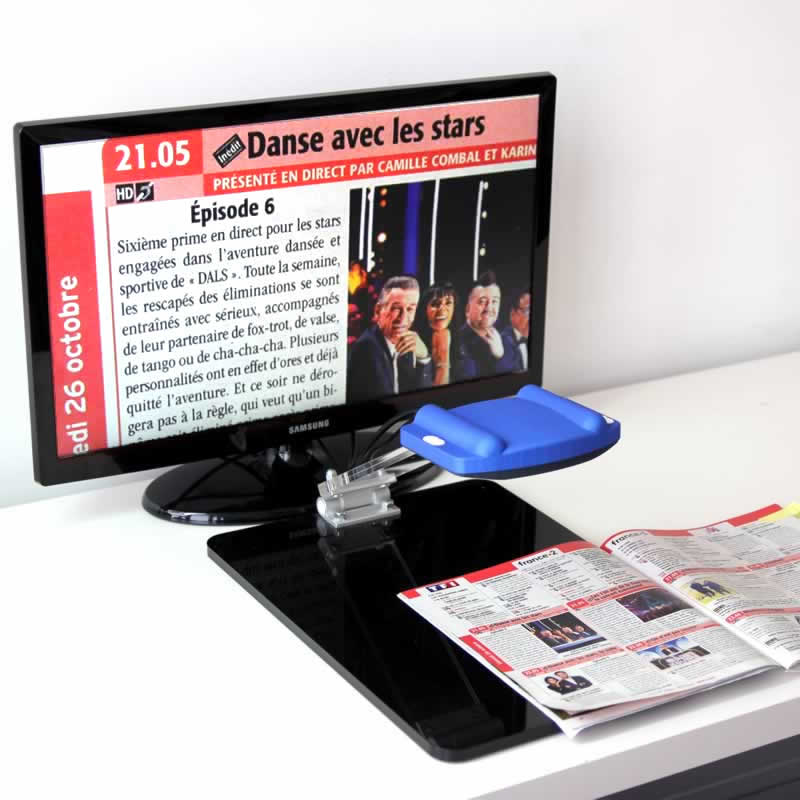 Froggy HD on Youtube
Benefits
Froggyloupe Full HD is a simple and powerfull video magnifier for people with low vision. Magnification goes from 2x up to 32x. Contrasts is adjusted and enhanced. Field of view is much bigger than with optical magnifier. That gives back to the user full autonomy for everyday actions, such as :
Read TV programs, newspaper, magazine
Easely understand what's written on a recently received postmail
Play crossword, sudoku
Watch to family pictures
Draw, Paint
Discover what is the expiration date on late delivery
Watch to stamps collection
Read comics
Uses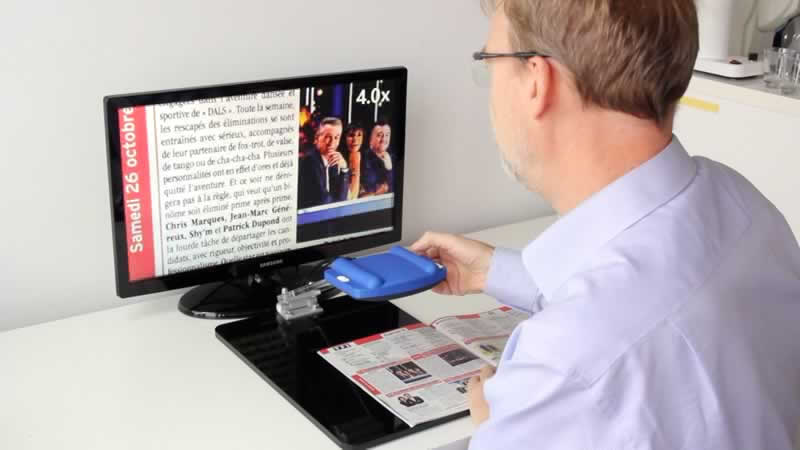 Reading a TV program, natural colors. High magnification and huge field of view allow full reading of broadcasts schedule and details.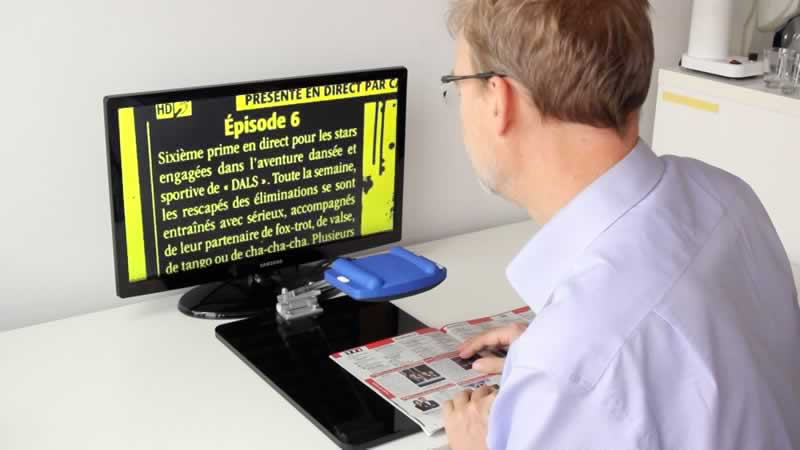 Special included BLUECUT contrasts is developed for patients with high glare sensitivity. That contrast filters blue light, and decrease overall light emission.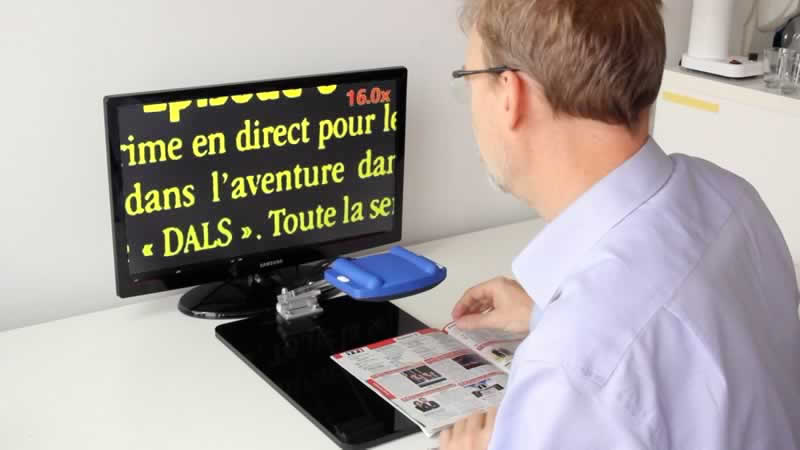 Froggyloupe with high magnification, with BLUECUT contrast.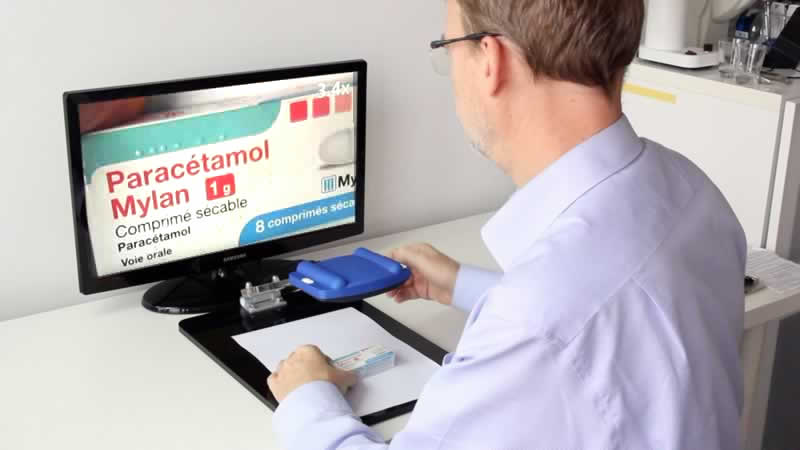 Froggyloupe allows reading of really tiny text on any surface, such as packaging. Autofocus camera and huge workspace increase confort of reading of these everyday texts.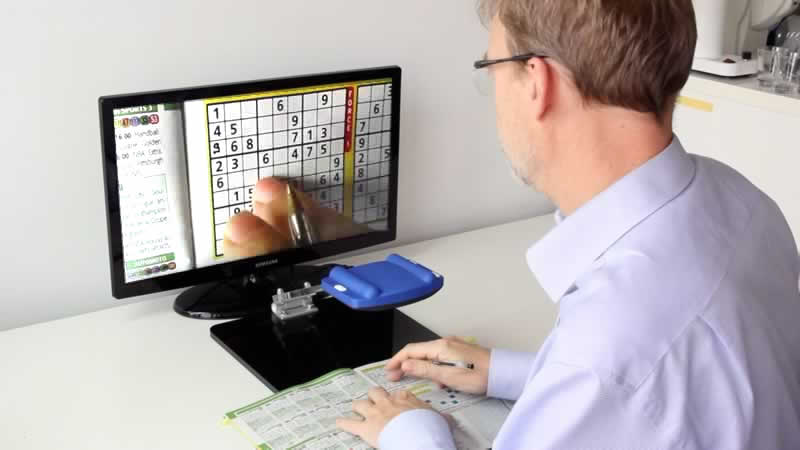 It is possible again to play Sudoku and Crossword using Froggyloupe. Color autofocus camera will follow your vision needs.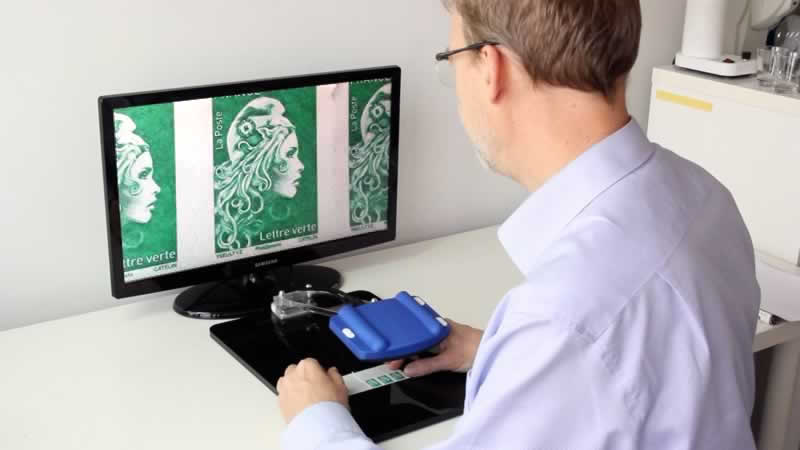 Watch full tiny details with high precision thanks to Full HD resolution. Small texts at bottom of the stamp are clearly visible.
Features
Magnification 2x up to 32x
Connects to any Full HD screen with HDMI input : PC, TV
Sold alone or with screen
Sony Camera Board, color, autofocus, 8 MP
Picture resolution : Full HD 1920 x 1080 px
Autofocus : focus is done automatically
Choice of 4 contrasts : natural colors, black text on white, white text on black, yellow text on black BLUECUT
BLUECUT contrast filters blue-light send by the screen, and decrease overall light level. Recommended for patients with glare sensitivity
Reading base dimensions : 400 mm x 290 mm mat black for glare control
Adjustable height of camera : easing pages manipulation, writing, etc
Simplified Design with only 3 buttons : Contrast, Zoom +, Zoom -
Flexible Ergonomy : place the unit and/or the screen wherever you want : unit and screen in front, unit on right and screen on left, etc
Recommended screen size : 20 to 30 inches (50 to 75 cm)
HDMI cable 1.5m included
Power supply included, 1.8m cable included
Foldable and easy to carry on in included bag.
Weight < 2 kg
Carrying bag included
Eco-responsible
Designed and build in France, this video-magnifier takes care of low environmental impact and increase durability:
Modular design that makes maintenance more easy
Low power consumption <6W
Automatic extinction after 20 min without change of picture
Possibility of update from 2009 Froggy classic to up-to-date Froggy HD
Made in France
Pricing
Froggyloupe HD unit alone : 1500 €
Buy online using Paypal or Credit Card (Visa, MasterCard) :
Terms and Conditions
Guarantee
Froggyloupe comes with a 2 years guarantee. This applies only where reasonable use has been applied. As an example, product falldown, or use of a wrong power supply are not covered.
Delivery
For mainland EEC Europe, delivery cost are included. For other countries including UK and Switzerland, customs taxes may be added during the import process. For more info, please contact us.
Returned Goods
After receiving an online purchase made on this website, customer can return products during 15 days, and get refund of returned goods. Customer will be liable for the cost of posting the goods back to us. This must be by recorded delivery so Customer must have a tracking number and Customer will be liable for this cost. Returned goods should be returned in perfect condition, with all accessories including carrying bag, power supply, cables, user manual. Address is :
THOMAS SINCLAIR LABORATOIRES- RETOUR Tour CIT, 3 rue de l'Arrivée 75015 PARIS, FRANCE Tel : +33 1 43 20 07 99
Contact
Thomas Sinclair Laboratoires
Tour CIT, 3 rue de l'Arrivée, 75015 Paris, France
Tel : +33 1 43 20 07 99
Email : contact@froggyloupe.com